Approximate read time: 9 minutes
My Track Record:
I am, arguably one of the most experienced people in Adelaide (and possibly Australia) in building entrepreneurial ecosystems ; my related credentials are:
I brought Startup Weekend to Adelaide in 2012 (which now has completed 6 sold out events with 600+ local alumni);
I am a Startup Weekend global facilitator (I've been involved in 10+ hackathons events globally);
I am a co-founder and current director of not-for-profit Startup Adelaide Inc – a not-for-profit organisation that exists to foster and support the Adelaide tech startup sector;
I am a co-founder and administration of the Startup Adelaide forum which has 700 members;
I am the co-founder of Business Higher Education Round Table award winning program Venture Dorm (100+ alumni with total company valuations of $5.5M) which merged with Mobile Enterprise Growth Alliance to be Australia's largest community pre-accelerator program;
I am the former Director of Marketing for Mobile Enterprise Growth Alliance;
I am the former Marketing Manager of New Venture Institute at Finders University;
I am the Australia Day Citizen of the Year for Unley (2015)for my contribution to building the Adelaide startup ecosystem;
I was recognised in Startup Daily's "Top 50 Australian Startup Influencers" in Australia and "Mentors you should know in the startup space, Adelaide Edition";
I won an honorable mention in Australian Anthills 30 under 30 award  for my contribution to building the Adelaide startup ecosystem;
I am and independent member of the Business and Economic Development Committee for Unley Council.
My Story
Since 2013 I have attended 4 entrepreneurial community summits that were held in Cambodia, Brazil, USA, and Malaysia by Up Global.
These events provide phenomenal knowledge, experiences and value.
They aim to get the best entrepreneurial community builders and leaders in the world in one place to mastermind and share best practice, lessons, issues, networks, connections and that is just scratching the surface!
The 2013 summit was held in Brazil and I travelled to Rio De Janeiro, for the world's largest entrepreneurial community summit: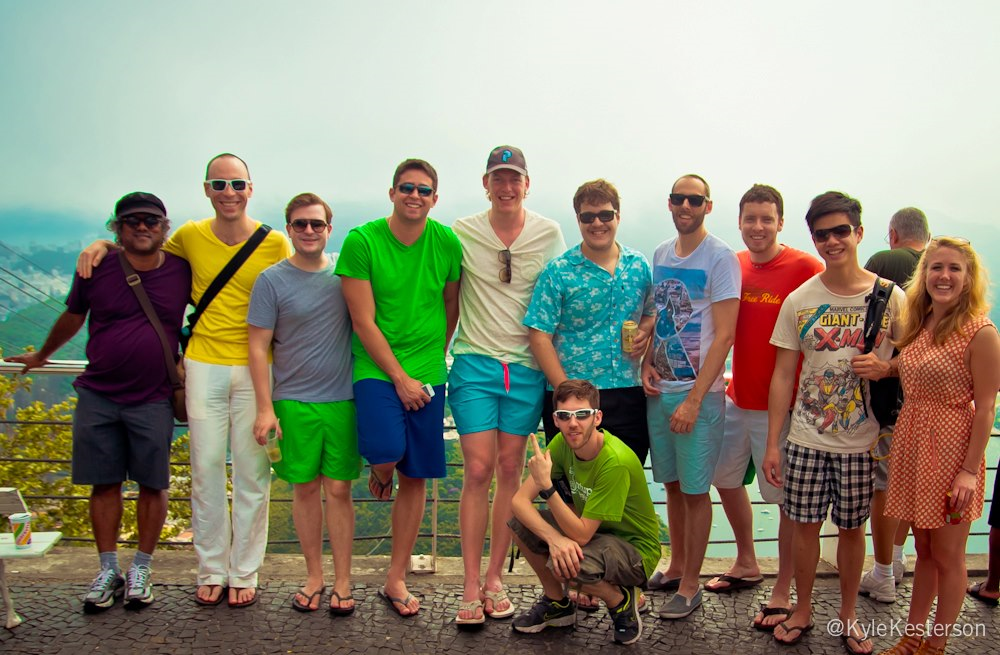 While there, I visited Santiago to learn about Startup Chile.
Through the top-down Startup Chile program, the Chilean government wanted to diversity its national industry focus, become the Innovation and entrepreneurship hub of Latin America and reduce its dependence on commodities.
The Startup Chile program requires:
In exchange for:
1 year work visa;
$35,000 (US approx.) equity free grant;
In my opinion this model is flawed in two ways:
Entrepreneurs are not necessarily community leaders – that is a distinct skillset (although it is not mutually exclusive to entrepreneurs); and
Importing entrepreneurs and companies is no guarantee they will stay.
This experience led me to consider how some of the principles of Startup Chile could be implemented in Adelaide.
In essence the following helped create the groundswell of entrepreneurial activity in Adelaide.
Filling the front of the "Tech Start Roadmap" funnel that is, the Stimulate, Study and Start phases of the Roadmap, through hackathons, networking, events, meetups and similar which proved to be the most effective mechanism to create a gravity of activity where it feeds on itself.
Startup Weekend Adelaide was instrumental in pumping 600+ people into the ecosystem, Startup Adelaide was crucial to keeping the conversation and networks going in between events and both were contributory to showing the way and empowering alumni to go out and be community leaders.
I have written about this here.
Many of the current programs, meetups, activities and so on have touch points or starting points with Startup Weekend Adelaide.
Heck, the Majoran founders met at the first event! All of this was bottom-up grassroots activities by the community for the community.
The idea?
Provide grants for entrepreneurial community building projects.
So I pitched my fellow Startup Adelaide Inc Directors on how I thought we could implement parts of what Startup Chile was doing well, leave out the things that were unnecessary and combine it with what was already working in Adelaide to build the entrepreneurial ecosystem.


I also argued my point to the community via the Startup Adelaide Facebook community: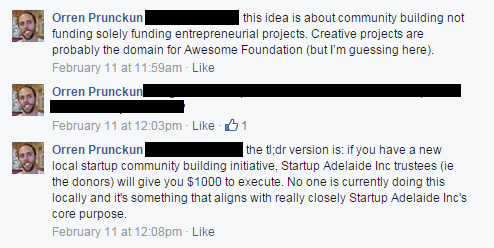 Text pasted (and re-edited) for readability:
"For clarification this isn't a replacement of/alternative for The Awesome Foundation. The original idea I tabled to the board was a specific application of the idea to create a strategic and fair way to incentivise people already sitting on the fence to take the leap and help build "community," by starting *NEW* activity. We know there is a large attrition rate as founders move from being inspired, to discovery, to action, to startup and to scale. In my view we have hit a ground swell (but not a saturation – still not close) on the front end. The more we can fill the front end of this funnel, the more will come out at the scale end. So it's really a hybrid of Awesome Foundation and http://StartupChile.org. The Awesome Foundation model is just the funding part and the Startup Chile model is the incentivised funnel part (tl;dr = they give you cash, you create community.) Yes, doing so will create "competition." But no, it doesn't matter. We have already seen that new activity brings new networks into play and the more people who take on community project means we'll have a flywheel of activity that self generates and perpetuates. So with that in mind, $100 is an *investment.* It's also an opportunity for those already sitting on the fence to take the leap and help build "community, who don't have time/skills/whatever to get their hands dirty but want to contribute in another way. That's my vision for the criteria for selecting initiatives. Would this inspire more people to put $100 up each month?"

"This idea is about community building not funding solely funding entrepreneurial projects. Creative projects are probably the domain for Awesome Foundation (but I'm guessing here)."

"The tl;dr version is: if you have a new local startup community building initiative, Startup Adelaide Inc trustees (i.e. the donors) will give you $1000 to execute. No one is currently doing this locally and it's something that aligns with really closely Startup Adelaide Inc's core purpose."
And none of this is conjecture, the concept has Adelaide entrepreneurial community support: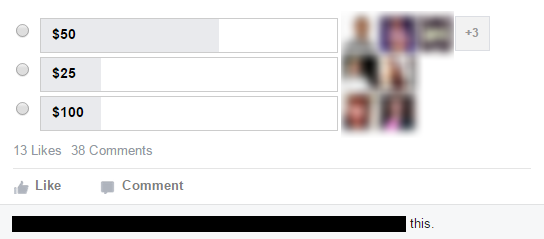 Where To From Here?
Empowering local grassroots entrepreneurial community members and current leaders to continue to do what they  are doing already or are going to do is simply an efficient use of resources.
They have the passion, the drive and most importantly the skillset to build entrepreneurial communities – and they have the credentials and experience to back it up.
Supporting something that already exists is always better than creating something from scratch, or worse still, replicating the status quo.
This doesn't take tens-of-millions-of-dollars in government grants, nor do the majority of the members or leaders leave the community post-program.
Do you want more like this?
Join below to be notified immediately about new content and more. No annoying daily emails and no spam – just good content when it's posted.