Miriam Castilla from Today's Woman Events
Miriam Castilla is a Bestselling Author, Effectologist & Certified Infinite Possibilities Trainer. She is also an Entrepreneur, Mentor & Keynote Speaker. Miriam started her working life on the corporate fast track in Petroleum Engineering and Corporate Development. Some years later, as a newly single mum she dived into the more exciting – although sometimes frightening – waters of small business and entrepreneurship. Miriam has since built an award winning business, featured in national & international publications and written & published her bestselling book, "Today's Woman – Life Balance Secrets". She believes women get too caught up in pleasing other people and deserve to live a life of passion and purpose. In 2012, she founded Today's Woman Events with a focus on rescuing visionary women from a sea of overwhelm, helping them regain clarity, focus & momentum.
Show Notes
In this episode you'll learn How To Write And Launch A International Best Selling Book By Pre-Selling 5000 Copies in 4 Months. We discuss how to:
Write a book that gets you kudos, credibility and positions you as an expert;
Use a book proposal to get clear on what you want to write about, discover your angle and message;
Identify a market and identify a target audience for your book and get feedback on your book idea;
Design a compelling information product for that audience;
Discover your writing voice and get comfortable writing;
Find and approach a publisher, get a favorable contract and retain your creative control but still get in bookstores via a distributor;
Gain feedback and refine your book idea before it goes to publication;
Go from blog to book based on all of your learning;
Use a "pre-sales" process to make your book an international best seller before publication without physical book or mock up;
Compile a marketing proposal with value adds and contact marketing partners;
Choose key metrics to monitor your progress when you have no financial resources;
Write your book in 6 weeks and make writing routine;
Monetize the back-end of your book and create up-sells and multiple streams of income;
Create an audio version of your book;
Use book publishing as positive personal growth experience;

And much, much more.
Links From The Episode
Global Publishing Group
Venture Dorm
The Effectiveness Quotient
Pareto Principle
Parkinson's Law
Infinite Possibilities
Today's Woman Book and CD
Simon Sinek How great leaders inspire action
http://www.miriamcastilla.com
http://www.TodaysWomanEvents.com
http://www.facebook.com/MiriamCastilla
http://au.linkedin.com/in/miriamcastilla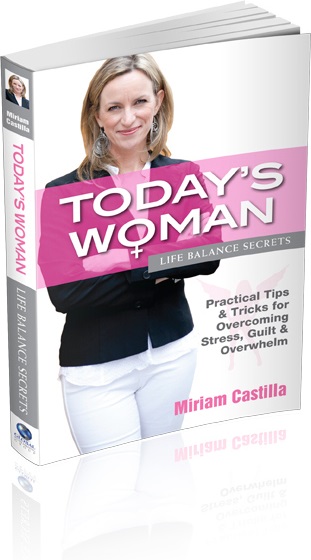 You can get 21 printed lead generating Process Maps for free, here.
And if you're serious about marketing and selling more, the logical next step is to contact me to help you do it yourself, have me do it with you, or have it all done for you.
This may be the momentum you need to get great marketing and sales results.
Or do you simply want more like this?
Join below to be notified immediately about new content and more. No annoying daily emails and no spam – just good content when it's posted.