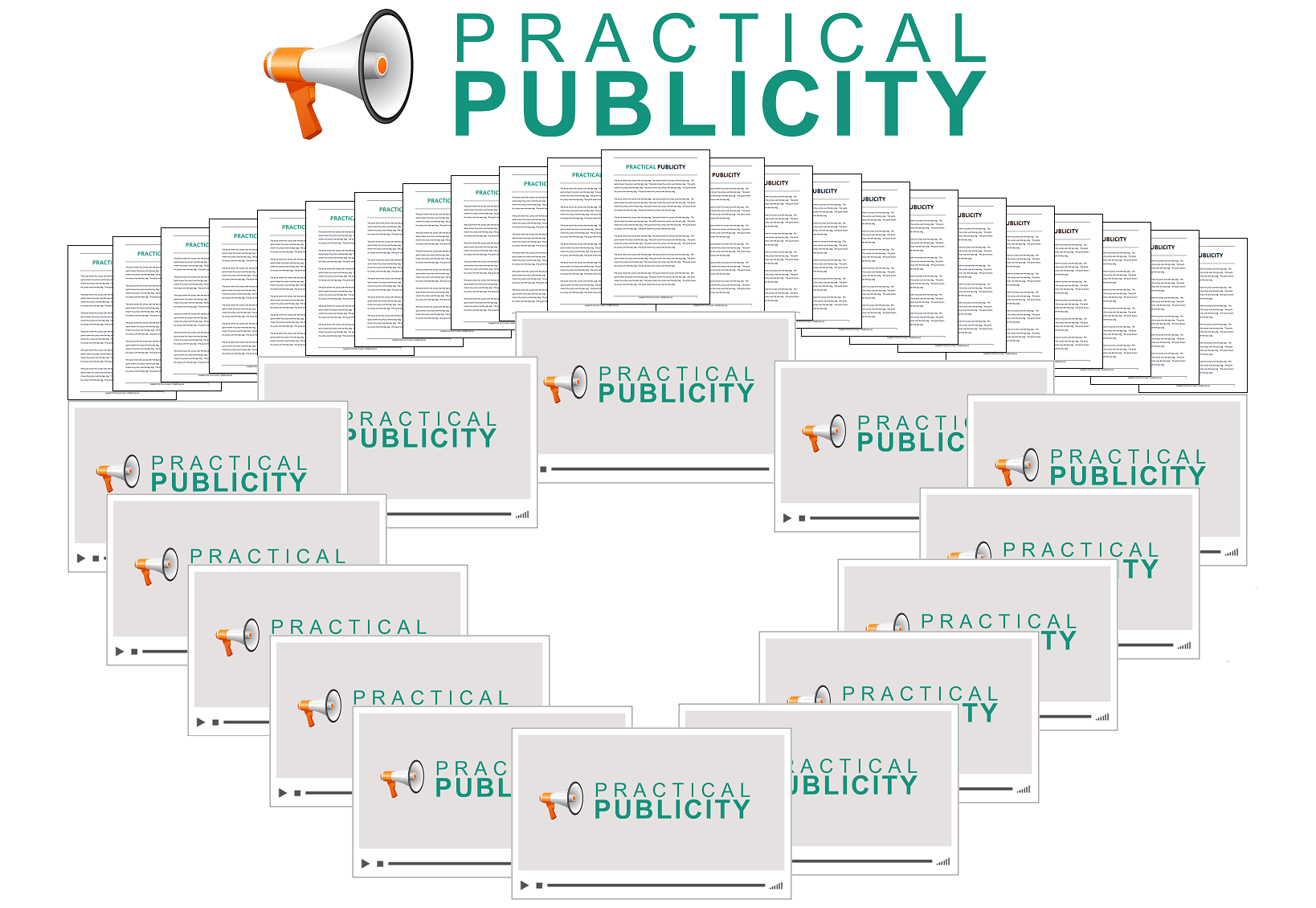 I have generated a lot of publicity over the last several years and I'll share what I've learned with you!
I have created a course called "How To Generate Free Publicity In 30 Days Or Less."
Positive publicity is valuable for any brand, either for- profit, not-for-profit or personal as it can:
Reach more prospects and customers than traditional Cost Per Impression advertising or display advertising.
Increase Internet traffic to your website, attract partners, investors, or other types of stakeholders;
Leverage third party credibility and influence provided by media to objectively position your without your public message being ignored into extinction. Use these "credibility indicators" to assist with conversion of prospects to customers;
Increase your brand awareness in niche and core markets, locally, nationally and internationally through a range of modalities;
Insert your desired narrative into published media and get the right stories, get the right coverage with the right outlets to get the attention you deserve;
Legitimise your activities via printing on the public record, increase public perception and profile building; and
Influence your ranking on Google's Search Engine Results Pages via published backlinks on influential sites with high Page Rank;
Some of the things you will learn in this course are:
Why anyone, no matter their situation, budget, knowledge, experience or message can generate free publicity;
The 11 specific mistakes most people make resulting in their publicity message being ignored… and what do it instead;
The simple system to determine your publicity objectives so you know exactly what to, and what not to focus on;
How to measure and analyse your publicity objectives so you do not need to spend any money;
The economics of publicity, the publicity ecosystem, the consumer/advertiser loyalty continuum and how to use these to your advantage so you can create compelling stories that outlets will want to publish;
How to quickly find publicity distributions channels so you are relevant to the types of people who want to hear about your message;
How evaluate publicity distributions channels based the angles, the demography, tone style and format of content, prior contact or interest in types of articles already published, ranking, popularity, beat and region, comments, views, and shares so that your pitch is well received;
How to write your publicity messages so that they are delicious to outlets and their readers;
The difference between pull opportunities and push opportunities and how pick and choose what is right for you;
How to use tools like Twitter so that publicity opportunities come to you;
How to leverage current trends so that your messages are relevant to outlets and their readers;
How to create evergreen stories and how to expand your content so that you do not need to rely on exclusives and so that multiple outlets pick up the story;
How to make connections with outlets even if you don't have any existing contacts simply via email;
How to make friends with outlets, build goodwill and give them valuable leads without self-promoting;
How to transition from building goodwill to effectively pitching an outlet your story without coming across as spammy and without having your email blacklisted forever;
How to deliver your story and write press releases that have tasty content using proven format, structure and elements so they get read and not deleted;
Why you should not solely focus on press release distribution services;
How to follow up with outlets who have not published with strategic content and so you do not come across as pushy;
How to acknowledge publication and build leverage through paid traffic and SEO so you are published in the same outlets week-after-week so you do not need to spend hours contacting new outlets;
How to take immediate action so that you can implement all the course learnings to generate 10-100x your tuition investment in free publicity within 30 days;
And much, much more…
You will get:
Fifteen recorded video lectures so that you can learn at your own pace, keep up with the exercises and implement what you are learning as you go; and
Twenty-one course related worksheets and scripts so that you can implement the content step-by-step.
This class is for you if:
You want to generate publicity for yourself, your business, your product, your film, your app, your ideas, your cause, your fundraiser, your charity, etc;
You have tried and failed to generate publicity previously and not sure what else to do;
You are finally ready to take publicity seriously;
You are a novice and have no idea where to start in generating publicity; or
You want to take your publicity activity to the next level;
If any of these describe you and you want to generate free publicity, you'll definitely want to be a part of this course.
Ready to join?